In which I will attempt to recreate the concept art for
Once Upon A Picnic
in living color, as best I may.
~~~~~~~~~~~~~~~~~~~~~~~~~~~~~~~~~~~~~~~~~~~~
First up, we have one of the most interesting characters in the whole saga, Hithlírë. She is (spoilers)
Falmarin fashions tend to be pastel and gradient, with shorter skirts for unmarried women and longer skirts for married women. (She is pictured here wearing a wife's dress but no wedding ring... ah, the limitations of working within set parameters.) ---Edit: I have received correction from the co-author (who is developing the Falmari as a people.)
An addendum to your paragraph about Falmarin fashions: the dresses of a married woman go to the ankles at the longest and mid-calf at the shortest. Unmarried women wear skirts from just below the knee to mid-thigh. Formal dresses are floor-length. Semi-formal reflect the marital status of the wearer. Both formal and semi-formal tend to be backless/have low backs.
The Falmari as a people tend to have more tan-to-brown or bronze skin; most have brown hair of varying shades, with a very few having silver.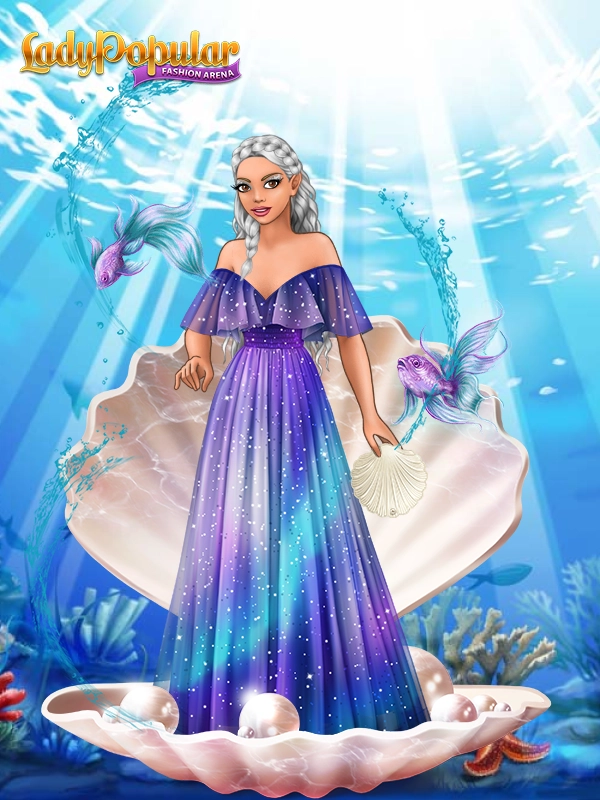 Next, we have a textual ghost: the wife of Mahtan and mother of Nerdanel. There are almost as many different iterations of her as there are fanfic authors who write fics with Mahtan in them, but my personal favorite - because she's my OC - is Sailimë. As redheaded as her husband, her name means wise/patient woman, and it fits her. She is Unbegotten, just like her husband, and is thus one of the oldest living creatures. She forgives everyone their every deed, and her grandchildren like to warn new cousins that her primary goal in life is to mother every one of her descendants. She is famous for her baked goods, particularly her cookies.