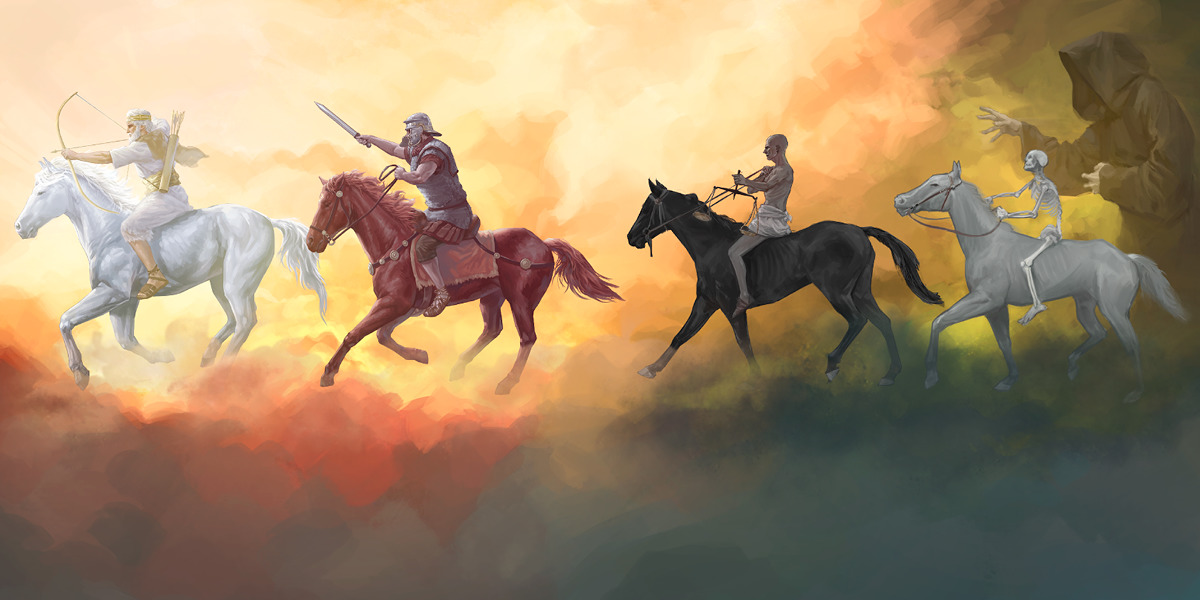 Suggested by

Alice Cullen

who will get rewarded for it.

The Horsemen are drawing nearer.
On leather steeds they ride.
They have come to take your life.
On through the dead of night,
With the four Horsemen ride,
Or choose your fate and die!"
— Metallica, "Four Horsemen"

So it's The End of the World as We Know It, or a reasonable facsimile. Chaos, anarchy, and destruction reign. But just when you think it can't get any worse, these guys show up. The Anthropomorphic Personifications of the worst things imaginable, if the Four Horsemen show up, you know it's an Apocalypse with a capital A.

The Four Horsemen of the Apocalypse are a quartet of immensely powerful entities that personified the four prime concepts that drive the Apocalypse.
The figure representing conquest rides a white horse; war, a red horse; famine, a black horse; and plague, a pale horse.




For this Month, I'll give you one of the Four Horsemen of the Apocalypse to dress up as.

So your First Task: The White Horse

"I saw, and look! a white horse, and the one seated on it had a bow; and a crown was given him, and he went out conquering and to complete his conquest.
Most adaptations will replace Conquest with Pestilence, or a similar apocalyptic agent, like Pollution, Genocide, Plague, Nuclear Holocaust, or Overpopulation.
Also known as "Pestilence," the rider of this horse carries a bow and wears a victor's crown. This horseman is a metaphor for the overreach of mankind. He is bound and determined to conquer the world with excess, and the aggrandizement of the human condition, which leads to greed and a gross imbalance between nature and the human soul.



Rewards:


Each week one winner will receive $ 5000

End of the month winner will get picked out of all entries and not just the weekly winners:
1st Place - 1 pack of 10 Energy and 20 emeralds
2nd Place - 1 pack of 5 Energy and 15 emeralds
3rd Place - 1 pack of 3 Energy and 10 emeralds
4th prize -1 pack of 1 Energy and 10 emeralds



Things I'll look at when choosing winners:


1. Did you dress your lady in ALL FOUR Horsemen looks?
2. Were you creative?



Please Remember:


Please add your lady ID
Add your lady name in the game
Keep photos in your gallery 'till end of the contest.

Please add one photo of your lady without any background.

Contest end date: 31 August 2018