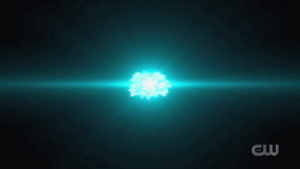 Last night someone asked me to name my favorite TV show.

That was easy: Supernatural. (although Vikings, Spartacus, The Walking Dead and Game of Thrones are all tied in on that spot; but hey, this is the show that gave us the delicious Jensen Ackles
)

The follow up question was "Oh, what is it Supernatural about?"

And that was where I faltered. I had no idea how to describe a show in its 14th season with a hugely complicated mythology and dozens of recurring characters.






The Backstory:



Once upon a time lived the perfectly normal (at least that's what we thought in Season One…) Winchester family.
Their happy, normal family life changed one night when Mary discovered an intruder in Sammy's nursery and confronted him. She was brutally murdered and found suspended from the ceiling just before the entire room burst into flames.

I hate it when that happens.


'Cause, really, was there any other logical conclusion? (Please see the title of the show…)

John then dedicated his life to ridding the world of these creatures so that no other family would suffer the devastating loss his did. He raised his two sons to be soldiers in the fight against the supernatural.

-If you want to know more, start binge watching Supernatural NOW!!!




This is a show where Angels work with humans and you can throw The King of Hell into the mix, so there's no shortage of story lines. Reapers, Banshee's, The Four Horses of the Apocalypse, Djinns are all characters that you will meet and might even find yourself liking.
Add great rock music, muscle cars, ghost stories and you're in for one Hell of a ride


So for this week's challenge, dress your lady as a character from the series.
Here's a handy guide to Supernatural Characters



Rewards:


1st. 30 emmies
2nd. 25 emmies
3rd. 20 emmies
4th. 15 emmies




Things I'll look at when choosing winners:


1. Did you dress as a character from Supernatural?
2. Where you creative?



Please Remember:


Please add your lady ID
Add your lady name in the game
ONE entry per lady
Keep photo in your gallery 'till end of the contest.

Please add one photo of your lady without any background.

if you are using a background for the contest.
Contest end date: Sunday, 14 April 2019