It's Halloweentime again – and you're invited to take part in the most wickedly fun Halloween party ever on LP forum!!



Everyone will be here: ghosts, witches, pumpkins, vampires, ghouls, you name it!!



Once you've picked out your costume, help the host(Forum staff) to arrange the place in a suitable manner.



TASK

: dress up for a Halloween party

and

arrange your apartment in a thematic way.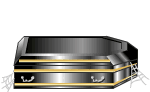 Best entries will be rewarded.
End date: 01.11.2018