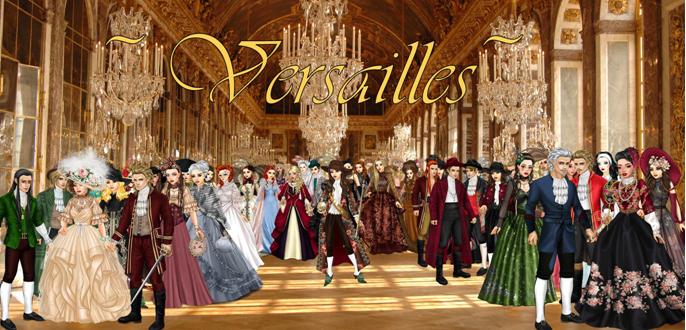 The year is 1682 when Sun King Louis XIV decides to move his family to Versailles Palace and gather the highest representatives of the aristocracy in France under one roof. He sends out invitations to the most noble lords and their women to join, but it was actually an order that threatened the security of the positions of those who rejected it. Some gladly accepted, others reluctantly. They left their own homes and lands where they lived and headed to the heart of France.

Being one of these blue blood members called to Versailles, your task is to make a dress and describe your first impressions of the palace when you arrive in it - the king, the gardens, the room, the rest of the people.
What is happening? Are you greeted by the King? Are they indifferent or are they glad to see you? What tribulations happened on the way? Were you tired of waving, do you hate this place already? What are you going to do next?
We give you the complete freedom to describe everything that has excited you.
Make yourself comfortable, pour a glass of wine and soak in manners and grace from a long-forgotten world.

Oh, we heard that tonight Louis organized a spectacular ball! We are going to go, will you come with us? He would have a lot of yummy hors d'oeuvre'sn. We are very curious to meet the others and see what surprises our favorite king has prepared for us!

Let your text be about 500 words. (We will not count every word, use it as a landmark.) Rather, we plan to focus more on your creativity. Write something new, something different from the typical fairy-tale of the princess, with whom he finally married. Remember, our Louis is a married man. Apart from being his mistress, you can not get him. Disguise your Lady as a man if you wish. An interesting fact - at that time it was customary for men to have male lovers, especially in Versailles - why do not you show us a gay couple? Favors and backgrounds beyond those in the game are allowed. You have the complete freedom to express yourself, your fantasy and your creativity. Show your best. Be better than others and become the King's favorites!

Welcome ... to Versailles!



Rewards:


1st. 30 emeralds + $ 20 000
2nd. 25 emeralds + $ 15 000
3rd. 20 emeralds + $ 10 000
4th. 15 emeralds + $ 5 000



Things I'll look at when choosing winners:


1. Did you dress your lady as blue blood member from Versailles?
2. Did you write a story?
3. Were you creative?



Please Remember:


Please add your lady ID
Add your lady name in the game
Keep photo in your gallery 'till end of the contest.

Please add one photo of your lady without any background.

if you are using a background for the contest.
Contest end date: Sunday, 2 September 2018

I would like to thank the Bulgarian Forum Team for this great idea and picture.

Love poems are corny
and so are some songs.
But maybe this
one will make you belong.